Rick is a classic over-commiter. For the 20 years or so I've known him, he's always had half a dozen things going on the side, whether it be painting a car for a friend or building a set of cabinets for a kitchen re-model. Even when he was out of the country, doing temporary duty in Greece for 6 weeks, he took along materials to build me a beautiful dresser-style jewelery box in his spare time. And for years he had "disciples" who would show up in the driveway each weekend to work on their vehicles and benefit from his guidance.
But in the last several years, he's been working too hard. He turned the various decks and cabinetry work into a part-time business, and spent all his spare time pushing to finish this project or that one. I've tried to distract him at times for the sake of his own sanity, encouraging him to go to a race or putter with a project of his own. But most of the time he has put himself under too much pressure and feels the need to keep slaving on the crisis of the moment.
Back when the kids were little, Rick was bit by the RC aircraft bug. He had a wonderful time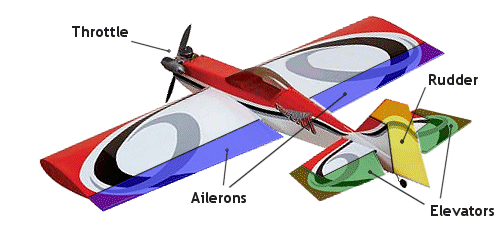 designing and building a plane for himself, before descovering that his creation was not particularly stable in the air and not suitable for a novice flyer. And then he bought a trainer aircraft and found a friend with a "buddy box" who could link up two different radios, allowing one person to take control in an emergency while the other was learning to fly. But that was back in Savannah, and when we moved away from the friend with the buddy box, the plane when on the shelf (and eventually out the door).
Anyway, it turns out that the gas station just down the highway from our house has a whole RC shop in the back, and the owner has arranged for a spot where RC aircraft can be flown on the weekend. This was enough to inspire Rick to buy a new kit and start construction on a new aircraft 4 or 5 years ago . . . but again, he got overcommitted in other directions, and the interest got put on the back shelf (along with his partially completed airplane).
Well, now it's his birthday. I have been nagging him again that birthday gift money should be spent on something you wouldn't normally buy for yourself, something special that will bring you joy. And for once, he took me seriously. He pulled his half-finished aircraft off the shelf, and went out and bought some stuff to finish it. He's started talking about how Jay from work has a buddy box, and maybe he can get back to the challenge of learning how to fly. He asked for a 4 channel control radio as his birthday gift from me and the kids, and then looked like a kid in a candy store when he actually got it.
Okay, so a few chores around the house might be delayed, and some income might be diverted. But it's high time that Rick did something just for the pure fun of it. He's excited and inspired. And I'm good with that.