I have been productively engaged, as you can see: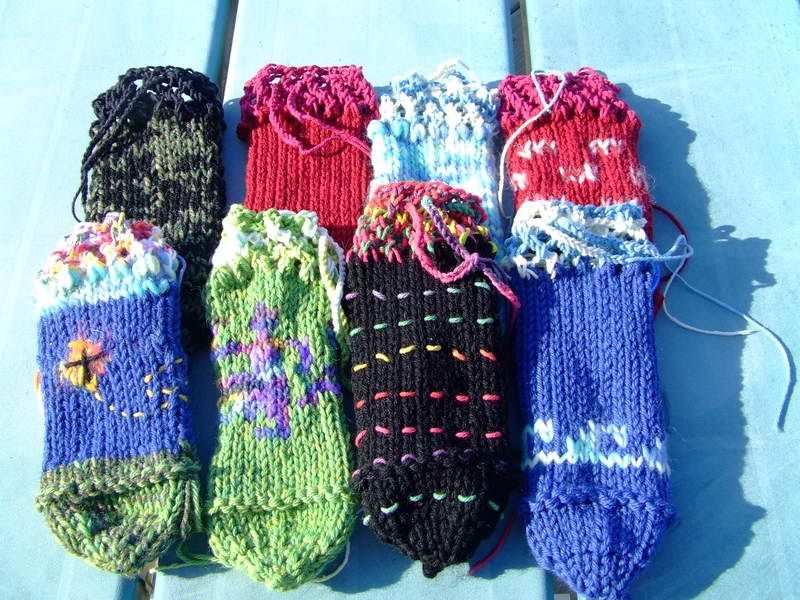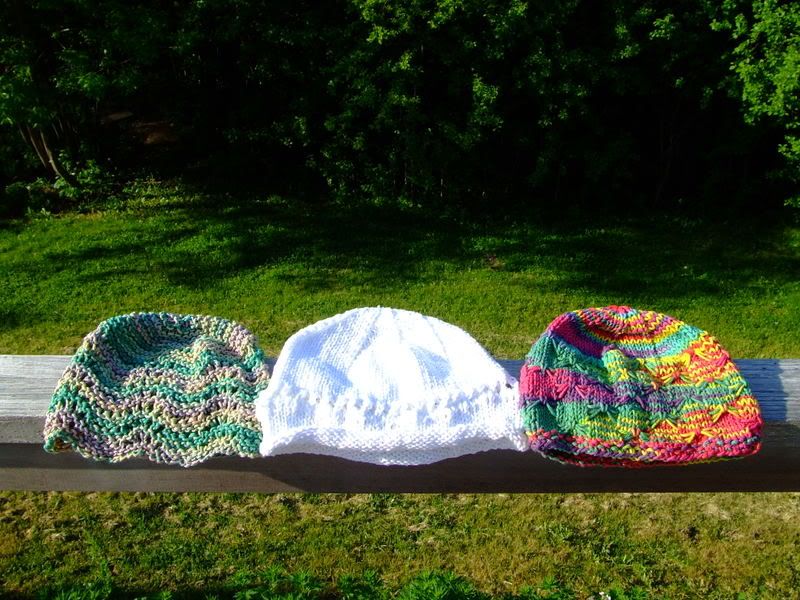 Farmer's market is in 5 days, and in addition to various matted photographic prints I have 8 waterbottle holders (unfelted as yet), a shawl and 3 hats. I'm still hoping that these cotton hats, made out of Peaches & Creme in a fairly open stitch, will appeal to those fashion conscious types who don't like their hair whipping into their eyes in the summer breeze. From left to right, you are looking at a feather & fan lace version with a 12 stitch repeat in Monet greens and pinks, a pure white with a rolled brim and a strip of Roman Arches (or Roman Stripe or something like that - see Barbara Walker's 2nd book, somewhere around page 148), and some wild colors with a 3 row seed stitch border and a 10 stitch repeat version of a butterfly stitch. Next I want to do another one with a seed stitch border, but then do the "wave" colorwork like I did on the cotton baby sweater back in March. Anyway, recipe is below.
Regarding the water bottles, I still need to felt them and weave in the cotton ends and such, but I've found a vendor on E-bay who sells lots of carabineer clips for about 30% of what I've seen elsewhere. I can vary the designs enough to hold my interest (although frankly the colorwork kite - bottom left - looked better in my head than it does in reality). And my plan is to have a cooler of chilled water bottles with me at the market, which will be included free with each bottle cover purchase.
I know - I still need to experiment with that fiber necklace idea. I may be avoiding the topic, after my first unsatisfactory experiment. I also need to inventory the photography and mat up some larger prints for display. And I want to make a poster advertising my portrait work, since the new crop of senior picture candidates is just starting to ripen. And I still need to pick up a sheet of plastic lattice and have Rick cut it in half for me, so I can use it as a background and hang display items from it with s-clips. (Which also means, of course, that I need to buy said s-clips, and a whole bunch of bungie cords.) And my canopy still hasn't been delivered and I haven't coughed up the $120 or so for a pair of folding tables. But under the category of "It's Good To Have Friends," Tammy has offered me the use of a folding table for the summer and Nola has offered her canopy and folding tables for the next month (since the Pt. Washington market doesn't start until July) - so back-up plans and cost-delaying strategies are in place. Now all I have to do is show up, set up, sit back, and enjoy.
Oh, and what do you think of the two sparklies (eyes right)? The one in the clear photograph is from an advertisement somewhere, and is fairly elegant. The one in the fuzzy photograph, taken by someone who shall remain nameless but obviously is still having problems with her macro function, is one of the vintage pins from Peg's
shoebox. I'm considering removing the pin finding from the back, adding a pair of loops at about 1:00 and 11:00, and stringing it on a snake chain similar to the first one. Am I destroying a perfectly good existing piece, or reinventing it as something unique and creative? The jury's still out.
***************************
General recipe for a cotton summer beanie:
1 largish skein of Peaches & Creme (I'm using up scraps, so I'm not sure exactly how much. A more thoughtful person would have weighed the hats.)
1 set of size 5 double-pointed needles
A Note on Gauge: Mine tends towards the loose, so size 5 needles are my standard for this yarn. Adjust yours to get more or less the gauge from the ballband (whatever that is). The pattern as shown comfortably fits my head, but is stretchy.
Cast on 80 stitches, divided evenly over 4 needles. (For a chemo cap or a smaller head, you might want to go down to about 72 stitches.) Work edge treatment of your choice:
(a) For rolled brim, work 8 rows of stockinette.
(b) For seed stitch border, work 1 row k1, p1; 1 row p1 k1; and 1 row k1 p1.
(c) For lace patterns with scalloped edge, such as feather and fan, no other edge treatment is necessary.

Continue working in the round, inserting lace patterns, colorwork or other embellishments as they strike your fancy, until piece measures approximately 4 ½ - 5" above edge treatment.
Decrease as follows:
(a) K 8, k 2 together, and repeat for rest of round.
(b) Knit.
(c) Knit 7, k2 together, and repeat for rest of round.
(d) Knit.
(e) Knit 6, k2 together, and repeat for rest of round. (You get the idea.)
When you get down to 8 stitches on your needles, break yarn, pull through loops and draw tight. Weave in ends.