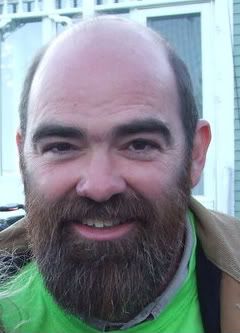 My brother Dan recently wrote a small piece explaining his decision to be a Democrat. The piece was intended to counterbalance something posted online by a "troll," someone who intentionally was trying to provoke response with an outrageous statement. Still, I though Dan's response was thought-provoking and well worth sharing. It reminds me of the
This I Believe
series on NPR. (Besides, I liked the way he tied Star Trek into the first
sentence
. Once a geek, always a geek.) And I more or less agree with it all, so here you go.
I am a Democrat because I believe that the many should be protected from the few. Republicans believe that there is a greater need for the few to be protected from the many, and I agree with that idea too, but not as strongly as with the democratic position.
.
I believe in government of the people, for the people, and by the people. Despite this being a quote from a Republican, I find the Democrats do a better job of implementing it. The purpose of government is to do things that cannot be done justly and effectively as individuals. This requires a pooling of resources: taxation. Any taxation is a redistribution of wealth, and many will argue strategy to make it as fair as possible. Even when not entirely fair on the surface (welfare, for instance), many government programs have the effect of reducing future costs or enhancing future productivity. It costs about the same to send a man to college or jail. One results in a better, more productive member of society. The other produces an ex-con.
.
I believe in the prudent regulation of industry and corporations, so that the people are not reduced to poverty and disease through exploitation and pollution.
.
I believe that life begins at birth. I believe that the needs of a teenager or young adult far outweigh the needs of the unborn. I believe, as Bill Clinton said, that abortion should be safe, legal, and rare. I believe that children should be wanted. I believe what I read in "

Freakonomics

", that unwanted children are more likely to become criminal adults, that we have a sufficient birth rate for societal renewal, and that in the early stages of a pregnancy, there isn't enough brain function for the fetus to be considered truly human yet.
.
I believe that the people who wanted to deregulate our banks were mostly Republicans. John McCain was head of the Commerce Committee, and has a history of pushing for deregulation. As has been recently pointed out, our economy has historically done better under Democrats than under Republicans.
.
I believe that our costs will be lower if we care for health, rather than wait and treat disease. Throughout the world, the most common and cost effective method of doing this is government health care. It may not be perfect for all, but it does a better job than our patchwork system of having lawyers fight for and against paying sick peoples legitimate medical bills.
.
I believe that homosexuality has existed for a long time and in many species. I may not understand it, but clearly, evolution has favored having some level of it within a population. When I was seven years old, I thought kissing seemed gross. As a married heterosexual (Kinsey 1) adult, I enjoy kissing my wife quite a lot. I've learned that my opinions of what's gross is irrelevant when I'm not involved in the action. I believe in monogamy, partly from a belief in the evolutionary value of individual commitment, but also from a concern about VD. There are, of course, precautions which can minimize those risks.
.
I believe that my immigrant ancestors helped build this country. I believe the current new immigrants are generally hard working, and come here to work, not to steal. I generally do not begrudge them their jobs picking lettuce and strawberries. The Chinese built our railroads. The Italians, Poles, and Irish of 140 years ago built much of our eastern infrastructure. Southern agriculture was built on the backs of African labor, robbed of the wealth it produced. If there is a problem with our immigration policy, it is that corporate (usually Republican) interests wish to keep our borders open in order to exploit this cheap labor. (Look at

Shilo

Inns labor and the hotel chain's owner's heavy donations to republicans. This is only one of many examples.)
.
I believe that Republicans, especially John McCain, have been at the forefront of sending American jobs overseas. I don't care about the skin color or eye shape or hair texture of the person doing an American job, but I believe the job should be done here.
.
Lastly, I believe the original poster is a troll, who will never understand these answers, because he chooses to be ignorant.
.
Dan