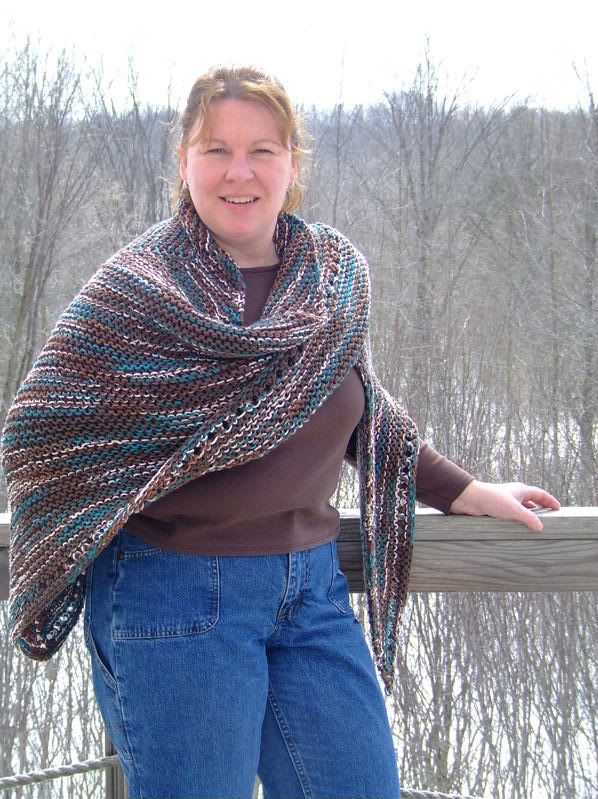 I finally had a chance to have Luc take my picture with the cotton shawl I finished last week. I wore it to church, too - when I wasn't in a choir robe - and got lots of compliments. I just love it, and I'm glad I finally made one for myself.
The recipe is simple, if you want one. You'll need:
- 2 1-lb cones of Peaches 'n Creme worsted weight cotton in coordinating colors
- Size 15 (or so) circular needles
- a stitch marker
Cast on 4 stitches, holding one strand of each yarn together throughout.
Row 1: increase in first stitch, increase in second stitch, place marker, knit last two stitches.
Row 2: Increase in first stitch, knit to last stitch before marker, increase in stitch next to marker, knit to end.
Just keep repeating row 2 until it's long enough or you run out of yarn. Generally, you want the length to be at least equal to the distance from the nape of your neck to just a little past your rear. (If the shawl is shorter, it will still be fine, but it has an unintended effect of pointing a big arrow straight at your butt.)
Optional: 3 rows or so before the end, do a row of "knit 2 together, yarn over" across. You will still need to get your two increases in, and a simple way of doing that is to just slip a regular knit stitch in the appropriate spots instead of a K2tog. This makes an eyelet row across the edge which plays nicely off the eyelet stripe down the center back where the increases were made.
I can't wait to throw the shawl jauntily around my shoulders when I get on the plane next week, and since it's made from very absorbent cotton it will double nicely as a towel when I take the nephews to the pool for a swim. (Hmm - hadn't thought about the chlorine. When I'd talked about using the cotton shawls at towels before, I had lake water in mind.) Just the same - isn't it pretty?
.
Other news - not much really. I spoke to David in Finland for 16 minutes, and am a bit worried what that will cost me; but I have a pretty good idea now what to send my nephew Robert for his high school graduation this spring.
.
And yesterday, I had a long and extremely helpful conversation with my friend from church (who not only has the excellent insight gathered through a long history with the congregation, but is in her second year at seminary and has put a lot of thought recently into church leadership and clergy/congregation issues). And after a few more conversations today, I've learned that the whole "stripping people of their membership if they speak negatively" thing is not in the constitution - it's in some parish relations document which is not binding, and which we all agree should be updated next. We're an open and affirming church - our motto is painted right over the door: Doors Open, Minds Open, Hearts Open. Kicking members out is not something we do, and all our governing documents should be corrected to reflect this.
.
Rick's employer is remodeling one of the hotels it owns in the area, so employees (and their spouses) had the chance to attend a furniture sale free-for-all yesterday morning while the company liquidated their excess hotel furniture and materials. People walked out with everything from ice buckets to sleeper sofas. We picked up two of the big armoir cabinets, the kind they used to keep the televisions in before everyone fell in love with flat panel televisions, for $75 a piece. Rick is going to put shelves across the "tv" space in them, and then put one at the top of the stairs to store the upstairs linens. The other is to go in our bedroom - which means my task for this afternoon is to clear out a space for it and get things ready for it to be moved in. It's a big, heavy thing, and to make room we'll probably take out the excercise machine - another big heavy thing. So basically, I need to have the bedroom organized enough that people with bigger muscles than me can move around freely and safely. This may take a while . . . .