I think I must have left my mohair mobius project in the choir
room at church - which is fine, because (a) who's going to steal it at church? and (b) I can pick it up tomorrow night at Maundy Thursday services. But it raised the question of what I should do with my hands in the mean time, especially since I was going to be sitting in waiting rooms yesterday.
.
I spent some time flipping through my collection of "patterns I'd like to do some day," narrowed it down to the smaller projects, and ended up with the "Dream Swatch" pattern from Knitty.com. I dug in my stash and came across some Sausalito by Plymouth Yarn, a cotton/acrylic mix I picked up at one of those "everything you can stuff in this bag for $5" sales at my not-so-local yarn store in Fond du Lac. The color is a number, not a name, but the yarn looks kind of like a really fine I-cord knitted from one strand of crayola colors held with one strand of white. In any case, I have now accomplished the Dream Swatch. I took it down from 24 stitches across to 18 and used up all but maybe the last meter of the yarn from my sole skein, and it is just about the right length to tie around my head. I was hoping for it to go long enough for a belt, but it was not to be - at least not at my current size. I worried about the edges rolling, and they do, but I guess I don't think that really takes too much away from it's looks or functionality.
.
Next, I wanted to come up with a small Easter gift for my brother. He lives in a warm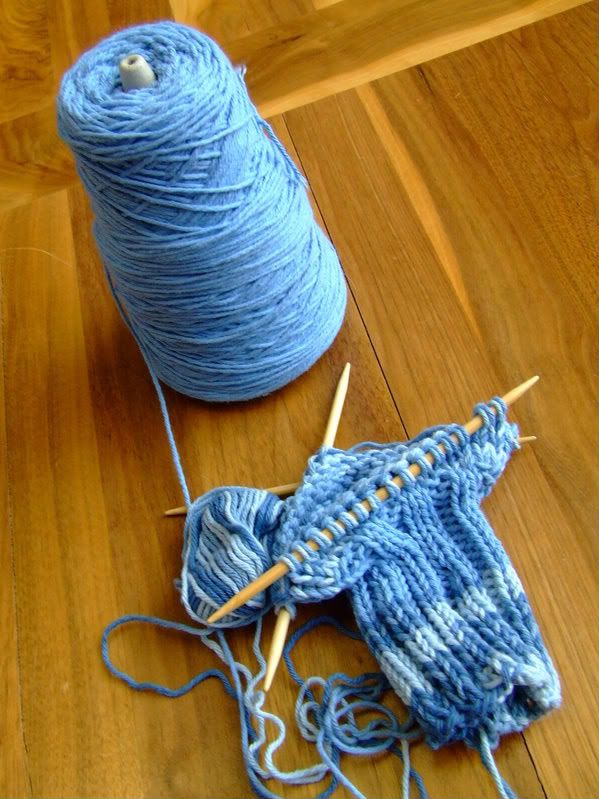 climate, dresses conservatively and already has a knitter in the house, so hats, quirky items and obvious stuff are all out. I asked the Knitlist for opinions, and one of the suggestions was golf club covers. I'm not a golfer and don't know much about the accoutrements of golfing, but I found a pattern that looked approximately right and I'm trying one out as an experiment. I'm just starting the part which will cover the head of the club, and that part will be double-stranded on fairly small needles for a nice thick padded cover. Let's just hope the proportions and dimensions aren't too far off. I may need to track down a local golfer to solicit an opinion.
.
Meanwhile, it's 4 days until I get on an airplane. I have this impending sense of doom related to my office, and I don't know if it's separation anxiety or the fear that they might discover they can do just fine without me.