You wouldn't think something like this would be intimidating. I mean, you're looking at some
luscious wool, all paid for and ready to rock, which is intended to be the anniversary prayer shawl. The buttery yellow is being used for the center panel (already done) and strips of embossed leaves on each of the ends; the fun variegated stuff will be the leaf lace in between.
.
But I keep worrying that the panels will pucker when I join them, whether that's done by picking up stitches or seaming the individual pieces. And I found the leaf lace pattern to be just frustrating enough during the swatch process that I keep putting it off until I can give it my full attention. And in the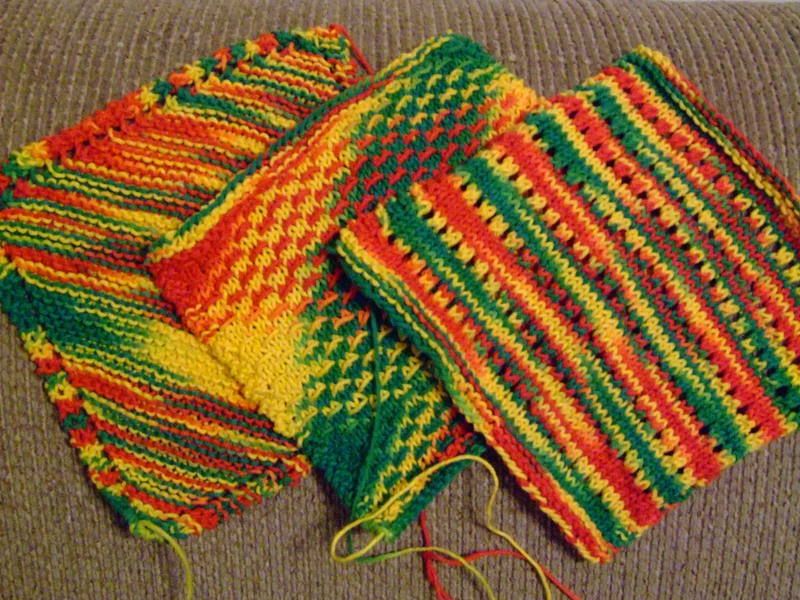 interim, I keep making dishcloths. I don't need dishcloths right now, although somewhere in about the middle of the third one I rationalized that I could send them to camp with Tasha this summer. And I'm using a yarn that, along with a solid red, made a beautiful "tomato plant" colored shawl last summer. (Trust me; it was pretty. The lady who bought it liked it so much that she came back to the booth two weeks later and asked me to duplicate it for her friend, who otherwise was threatening to steal the original.) But without the strong red undertones from the accompanying plain red yarn, it's pretty wild stuff that would probably stand out in most settings. (Okay - stand on the furniture jumping up and down and screaming.)
.
Anyway, I've finished three cloths in various basic patterns, and have promised myself that I will not start a fourth until the shawl is done. (It's due in 3 1/2 weeks!) I have choir tonight, but should be able to get a good start on it after work on Thursday. I'll keep you posted.
.
And under the category of "Rick Appreciation": Luc's replacement car is now on the road. I'd show you a picture, but Luc was off with it to work the morning after we flew in, and has driven it to class or work every day since. It still desperately needs an alignment, but I believe Luc is planning to dedicate his next paycheck to that. I had a quiet conversation with him this morning to remind him to take his time, be safe, file a flightplan, etc. Hopefully this one will last him a good long time.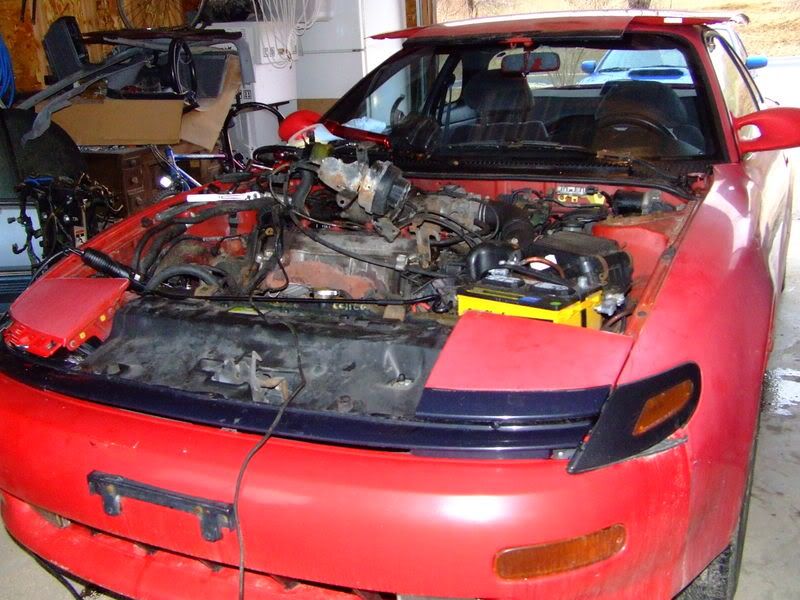 And on to the next one: Tasha's Celica is now officially in work. Rick is a bit grumpy that Tasha hasn't been appreciating his efforts enthusiastically enough. I mentioned to her last night (and
she agreed) that regular doses of brownies and freshly-brewed iced tea should be administered throughout this process.