Well, Saturday I finally got over the "hump" and started in on the 50th Anniversary shawl. (Also got our taxes done, and managed to convince Luc that losing his W-2 did not excuse him from the responsibility of filing.) I apologize in advance to any non-knitting readers - this post is going to be fiber-heavy in content.
The "tree of life" cable panel which is the center of the shawl is 40 stitches wide, ignoring variations that are part of the cable process. I decided to lead with Ostrich Plume lace stitch at the top and bottom of the tree panel, because the picture I had clipped to it made it look like stalks of wheat. (I'll post actual stitch direction links or something when I finish this project and give the complete recipe.) Ostrich Plume stitch has a 13 stitch repeat, so I picked up 41 stitches along the top of the cable panel for 3 repeats plus one stitch on each side for seaming. After one complete repeat, I figured out that the picture I had clipped to the stitch instructions was apparently wrong, because what I ended up with is more like an eyelet representation of a little fruit tree; but it's not bad, and so I kept going. I'm telling myself the "3 trees" motif repeated in this section could be interpreted as a nod to the 3 kids which were born out of the marriage. (At least, that's my story and I'm sticking to it.) I did 2 rows of this at the top, adding about 5" to the height of the project, and then bound off.
Originally I intended that the lace should radiate out in each direction from the center panel, but since the "3 trees" had such an obvious up and down, I decided a better plan would be to do another 2 repeats x 3 trees as a separate panel, then sew it on below the cable panel right-side-up. This worked fine, except my assembly skills are not the best and I'm not satisfied with how the seam looks on the back. I showed it to my friend Tammy on Sunday morning, and we decided that I may pull that one seam out later in the game and have her re-seam it with her magic crochet hook. (It's good to have friends.)
.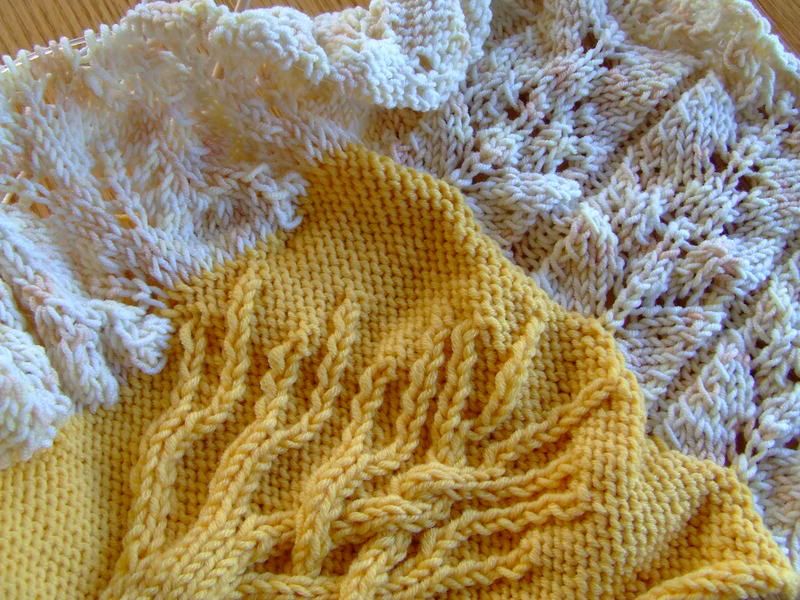 Next, I picked up stitches evenly (after only 4 tries, and gaining a new understanding of picking up stitches in the process) along the left edge, resulting in 140 stitches. A woman's prerogative, and all that - I picked up the Spring '08 Vogue Knitting while we were waiting on the accountant, noticed the "leaf border tank" on page 70 or somesuch, and decided that the "leaf border" was what I wanted for the next segment of the shawl. (I blame Rick, for taking me to a tax preparer which adjoined a Hobby Lobby.) The Vogue leaf stitch has a 17-stitch repeat, so 2 stitches of stockinette on each side for seaming and such. So far, so good - it's one of those lace patterns where the even rows are all "purl across," which means that at least half of the rows are relatively brainless. I worked on it most of Saturday afternoon, while watching some stored up Tivo and the made-for-BBC bio of Stephen Hawking's early years (not bad, although the geek factor was so strong even in his healthy years that I would have expected it to be a greater social impediment that depicted). I need to have this done by the last Sunday in April, especially if Tammy's going to have a bit of finish work on it as well - I'm starting to sweat a bit.
Oh, and I'm still hoping for dimensions large enough to wrap it around two people and have some decent height up their backs. Blocking will help, although I don't want to take a chance on distorting the tree cable panel. I've decided to knit about 19' of lace, about 2" wide, to edge it with (and ask Tammy to attach it. It's good to have friends.) Oh, and I'm either going to embroider around the tree cable panel seam crazy-quilt style or maybe put a little three-dimensional ruffle "frame" around it to soften the dramatic transition between the two colors of yarn. Right now the join looks a little stark, even ignoring that one seam at the bottom.
On Sunday afternoon, Rick and I spent some quality time driving down to the U Pull It in Illinois to scout parts for Tasha's Cellica. I think I got some major brownie points out of this - I bundled up and stood in a junk yard (no rain, but cold wind) for 3 hours or more, putting screws into baggies and carrying newly detached parts from the wrecks to the wheelbarrow which served as our shopping cart. I also found a screwdriver and a 5/8" deepwell socket on the ground, and a golf bag full of clubs in one of the trunks. It was starting to feel like a Tim Burton Easter egg hunt out there, with little prizes tucked between horrific carcasses. But I didn't work on the shawl on the way home (got too dirty), and when we got back the cold and wind and empty house conspired to convince us that a nap was in order. That blew the rest of the usable day, and at 1:00 on Monday morning I find myself wide awake and designing a stream of knitting and/or craft projects in my head.
Now, my experience at the Farmer's Market over the summer and fall of '07 was mostly positive, stalker aside, and especially after attending the Ithaca farmer's market last week I'm starting to consider taking another run at it myself. But if I do it, I'd probably better have booth space of my own this time. And to make that feasible, I need to come up with something a little more unique and marketable. The photography and knitting was reasonably well received, some days, but not really enough on its own to make the effort worthwhile. So, here are some the ideas bouncing around my head while
not
sleeping:
Summer cotton hats. Skull caps and funky little tall-sided berets in all the wild stitches used for fancy dishcloths. I can probably crank one out fast enough to make a $12 - $14 price-point reasonable, but I need to get (or talk Rick into making) a rotating hat display rack of some sort.


I'd like to try the small photo prints again, but I really, really need a spinning card rack for display. (Rick, Honey?) And I have several larger framed prints, left over from when Stones & Water closed their doors last fall and returned my remaining inventory. Maybe I could borrow Tasha's table easel or something?


The basic triangular cotton shawls went over well last summer, once they caught on. But a $40 price tag is too low for $15 in materials and 20 hours of work, obviously. I'm thinking about adjusting the "knit a tube and steek it" recipe I used for the retreat prayer shawl to a more plebian environment. I think a butterfly stitch shawl would be especially pretty, using the doubled Peaches & Creme and size 15 needles as before. Hmmm . . . maybe a price-point of $75 or so, depending on the stitch and the actual time invested. And if I get another order for six shawls at once, I'll space delivery dates out for a less-insane knitting schedule.


Felted wool water bottle cozies. I finished one for myself in Arizona and got it felted to size a few days ago, so I've had it in action since Thursday or so. I'm not completely content with the colorwork design - but I was working without a chart and making it up as I went along. The pattern itself seems workable, and I like how the carabiner clip makes it easy to keep the bottle handy. So, about 1.5 - 2 hours of construction time, plus the cost of the clip and left-over bits of wool and cotton (which I have in endless supply). Perhaps a $15 price-point?


Fiber necklaces. I have some wonderful luxury fibers in orphan skeins rescued from clearance bins, which have just been waiting to tell me what they want to be. Also, several lengths of left-over recycled sari silk yarn. Imagine:
(a) making an I cord with the fabulous yarn of the moment;
(b) using light beading silk or fishing line to sew funky beads in appropriately contrasting colors along the length of such I cord;
(c) tying off both ends securely and sealing them with epoxy or fray check;
(d) cutting two lengths of 14 ga. brass wire about 2" long and bending a loop at one end of each;
(e) working each loop through one end of the fiber cord and the bending it securely closed;
(f) stringing a brass cone over the wire loop and fiber cord end to "dress" them, then flattening the cone between a pair of non-mar blocks, if desired; and
(g) working the remaining ends of the brass wire into a hook and eye clasp.

Neat, eh? I even get to use my beading and metal-working stuff. And the variations are endless. Based on wilder, fatter, more "Maude"-styled accessories I've seen sold in Kohler, and depending on whether I'm using glass, crystal or semi-precious beads, I'm considering a price-point of $25 - $35. (I've got some wonderful silver freshwater pearls, about 15 mm long, that weren't drilled quite large enough for heavy beading silk. This may be their call to glory.)
Oh, and one more think I need to get out of my head before I try to sleep again. The great, wonderful, hysterically funny Stephanie Pearl-McPhee (a/k/a The Yarn Harlot) is coming to the Madison Borders Bookstore in two weeks to promote her latest book. I've seen her on YouTube and read her blog obsessively - the woman is not to be missed. So I'm going to take off from work that night like I'm being chased by the hounds of Hell, and an internet knitting friend has offered to save me a seat, and I'm going to see the Harlot. (Doing the little happy dance there for a minute. Please excuse.) Now, many people bring projects to show her - socks, in large part
- and to fully participate, one really must have a project in work on one's lap during the show. Mine will probably be the anniversary shawl, even thought it's a little bulky for the purpose, because I expect to be in full-out panic at that point. Just the same, it would be fun to bring a quick, quirky little project to show off, maybe even pass off. Enter Kimberly Chapman's "Little Guy" toy pattern. http://kimberlychapman.com/crafts/knit-gallery.html Do you see how she's made several versions as pop culture sculptures - Marge Simpson, Superman? Wouldn't it be fun to do a little Yarn Harlot, with fabulous socks peeking out from basic black pants, and maybe use a little computer-patterned sock yarn to make a wildly patterned sweater for her. And if I could visit the lady up at Hares to Ewe and get just a bit of that loopy brown wool, it would make wonderful Harlot hair. And should the glasses be painted on with Sharpie, or bent out of wire and attached with epoxy (since this will not go to a child)? And wouldn't it be fun to add a little hotel towel, in case she gets locked out of her room? (Those of you who read the blog know what I'm talking about.)
Do you see why I'm having trouble sleeping?!