My sister in law, Julie, is a mother of small boys, so her knitting tends more towards "interesting
and funky" than "lacy and cute." She makes a steady flow of these cute little soaker pants for her own little guy and for select customers, and also sells dye-to-order, knit-to-order items through thecushietushie.com. And she's really good, which makes me unbelievably proud, since I got her started on her first "Granny's Favorite" washcloth way back when. She also does wonderfully creative embroidery, apparently off the top of her head. She was one of the test knitters for the Knucks featured in Knitty.com's Winter 2008 issue - and you should see the bulldozer she created across the back of a pair of pants last fall!
.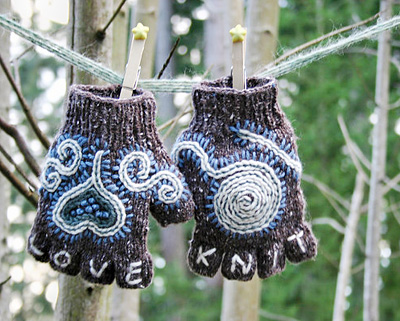 Anyway, Dad has commissioned me to make a pair of socks for his friend when I have a moment. Not the "Dan's Socks" heavy work sock pattern I use so much, but some lacy ladies socks in funky jeans-friendly colors. An excuse to knit, with no deadline - my kind of project. He had seen some colorwork socks in a catalog and sent me the page as a design starting point, but although I love colorwork I just didn't think that doing it on size 1 needles was going to be my best option. I showed him some of the swatches from the Blue Moon Fiber Arts website (love those people. I want to shop there when I grow up.) and he agreed that a handpaint would be a good way to go. Then I wimped out and bought a couple of skeins of a computer-printed bamboo/wool/nylon sock yarn.
.
But Julie has been urging me to learn to dye yarn. (What was that about not needing another hobby?) And I came across this 100% wool sock yarn on e-bay in what appeared to be a sort of beige and looked easy enough to over-dye. It arrived yesterday, and the beige turned out to be variegated tones of light tan, light puce, and light olive - in other words, about the color that pea soup turns when you really shouldn't eat it anymore. Good yarn gone bad, and in desperate need of being dyed. So now it isn't a whim, or a new hobby, but rather a community service.
.
Julie thought my silk dyes would probably work on wool, but just to be safe I ordered some project-specific dyes from Dharma Trading Company. I really need a yarn swift (especially since I can already see 2 or 3 other potential dying projects in the yarn from my stash), but they are just a bit more pricey than I can accept in these uncertain times. I may explore the instructions for the tinker-toy version I've seen online, or I may just use a chair back. And I don't have a ball-winder, but for the same reasons I'm thinking I can wind a ball by hand. Maybe I'll even try the "electric drill and masking tape" method of ball-winding, if I'm feeling brave. (I know that using power tools on your knitting supplies sounds like a really bad idea, but it has apparently worked for others.)
.
In any case, wish me luck.