Twenty-two years ago today, during the second week of basic training, TSgt Burrows lined us all
up and marched us across Lackland for our innoculations. She was easily the most competent of the training instructors - not as nice as Sgt Shaw, not as much of an absolute butt as TSgt Ludwig (I think I'd still love to take a swing at him, given the opportunity) - but smart and competent and exuding an air of complete mastery over both her environment and our training. "FALL IN, Ladies!" she bellowed, all of about 5' 2" of her. "Since the color of the day is red, you're getting your shots!" And away we went.
I'm told that in the really old days, they just used the same needle over and over as the line of recruits went by. When I went through, it was an air gun, and they had an airman in line showing you how to hold your arm out and clench to minimize the sting. But some of us still got some serious bruising. (I also ended up with a Hep B antibody - probably from an inoculation that wasn't quite ready yet for civilian use, but was good enough for us grunts.)
Anyway, since the color of the day is red, I thought I'd show you my progress thus far on Mary Thistle's "Lady Face With Hat" pattern. Here we are up to Row 29: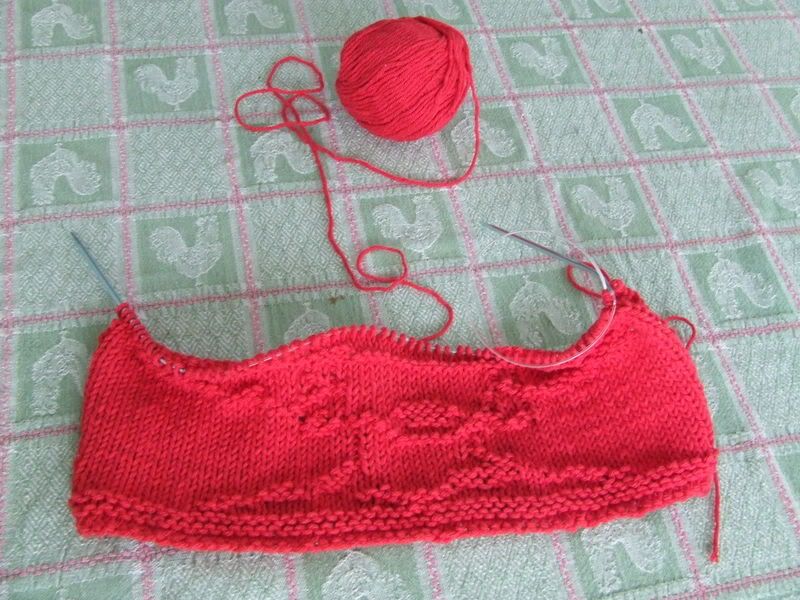 I think I'm seeing shoulders, neck, a chin and lips, and the beginnings of a large-brimmed hat. The pattern only has 54 rows, so I'm more than half way. Maybe I'll be able to show you the entire thing by the weekend.
In other news, the kids were presented with their chocolate this morning, and grunted some kind of acknowledgement that is probably quite acceptable in teenaged circles. Rick peeked at the card and tray of brownies I had ready for him, thought twice about the iced tea maker that I'd given to him early, and said he'd rather exchange gifts tonight - which means he's going shopping after work today. No worries, since it gave me the chance to remind him one more time that I like white chocolate, not dark.
Oh, and having attended the first simple lenten meal at church last night, I find myself having volunteered to do the second one next Wednesday. Anyone have a simple, somewhat health-conscious recipe for casserole which could be made with or without meat and which doesn't involve "cream of" soup?