As the updates continue, it's time to show you the latest on the Tree of Life anniversary prayer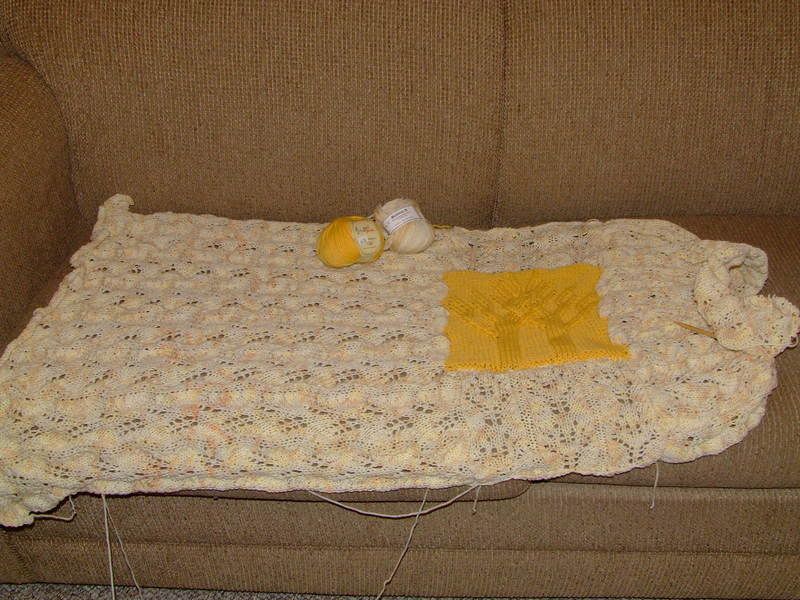 shawl. I'm down to 2 and a half balls of the variegated yarn, so I expect to finish the last of the leaf lace within the next few days. My plan is to use up the 4 balls I had allotted for the right "wing" of the shawl, measure it, and then probably pull out a few rows on the left wing to make sure the distances match. (If I'd
really
been thinking, it would have occurred to me that I only have 10 balls total in that dye lot, including the 1 and a half or so I used above and below the cable panel. Therefore, I should have weighed out what I had left when I started the left wing, then split it in half so as to end up with evenly sized wings
without
the excess counting and tinking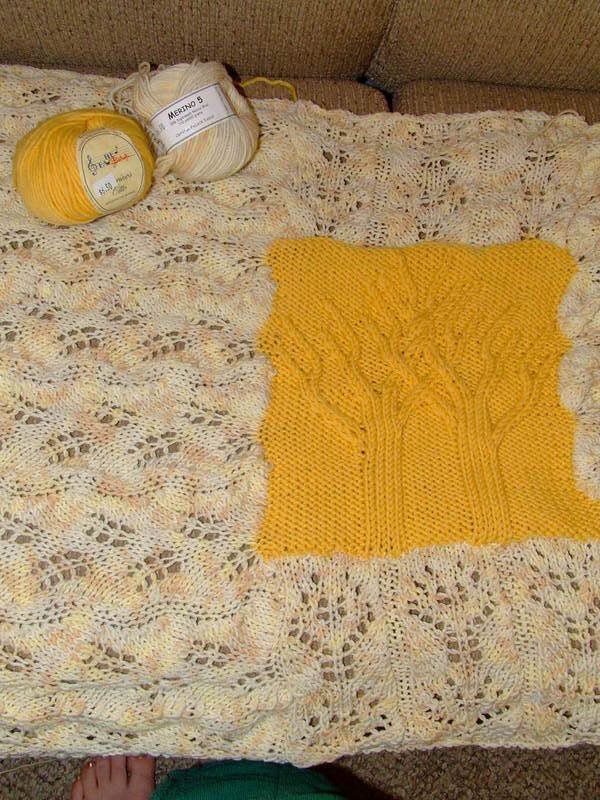 I've now committed myself to. Hindsight, and all that.) Then, I just have to make "wingtip" strips of the orchid lace in the yellow for each end, and a leaf-type border from Barbara Walker #2 (my new favorite book in the world) in yellow to go around the whole thing.
And for those who are playing the home game - this whole project was due on Saturday. I'm told the party was great, although I was out of town with family and didn't get there myself. New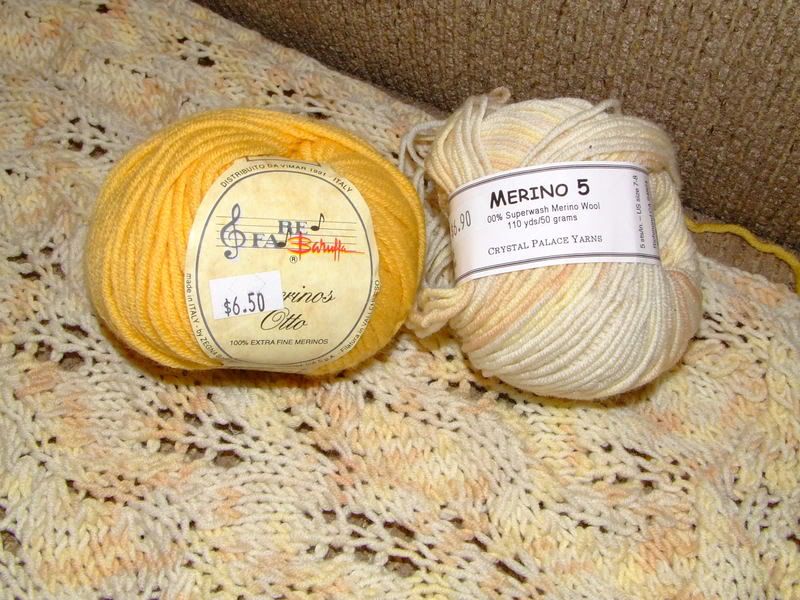 deadline: Memorial Day!
One more shawl-based comment: I'm definitely conflicted over this Crystal Palace Merino. It's light and soft and springy and the colors are great - but at least half of the balls I've knat up so far have a knotted break in somewhere in the middle. I'm not great at weaving in ends anyway, and I do not want extra chances to practice this particular skill. And with a fairly limited amount of this not-very-cheap yarn, my cold Dutch heart just won't let me waste a bunch of it by only switching to a new skein at the end of a row. So, Crystal Palace, please try to do better, for my sake? (I did complain to my LYS and showed Jody, the nice owner-lady, the problem. She's going to relay my concerns to Crystal Palace, with a few extra comments of her own, but that seriously doesn't do me much good at this point. Oh, well.)
And under the category of E-Bay, I'm working to recreate Lora J's favorite amber earrings after
she lost one in an unexpected manner. I needed amber for this, obviously, and while purchasing the supplies needed I also impulsively purchased a copper pendant for a whopping $1.99. I figured it was semi-cute, and at that price I'd find a use for it eventually. Unfortunately, I didn't look closely at the actual dimensions. Can you believe this sucker is 4 inches long?!! And the workmanship is not great - I think the bail is soldered on crooked.
I can't see myself actually wearing it. My first thoughts were "Children's Theater prop" and "Christmas Ornament." But if you want it, drop me a line. If you're local or plan to see me at a family event, I'll just bring it to you. If you're a friend that I've not yet met, send me a couple of bucks to cover shipping and I'll put it in the mail to you. First come, first serve - there's got to be someone who can make use of this gem.
I leave you for today with another image of spring, taken in the garden this morning. (I know - I'll have to pull it out of the garden tonight. But I like dandelions in principle, even those with poor sense of location.) Next time, I'll tell you about the Cousins in Chicago weekend, and how the view from the 96th floor women's room of the Hancock Tower really is just as good as the one from the Sears Tower Observation Deck.