Well, I have completed the process of becoming unemployed. I had some separation anxiety about the office, and Dan had to remind me that at a certain point (now upon us), it just really isn't my problem anymore. Still, I found myself automatically checking the lot as I drove past the building today, analyzing whether my [former] boss was present and whether any clients might be there for meetings or whatever. I made myself very directly responsible for the smooth running of that office, from technology issues on down to properly salted sidewalks, and it's going to take some time for me to internalize my current status. But on Friday, over the weekend, and again today, people who care about me have been reaching out - just touching base to make sure I'm doing okay and to offer support. You guys know who you are, and I really love you all.
Meanwhile, I delivered Farmer Luke's socks to his mom on Sunday, and I think they will be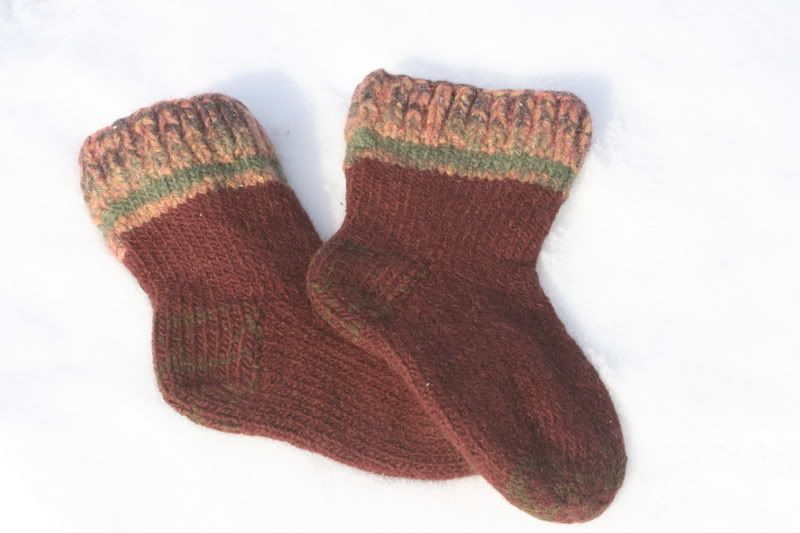 appreciated. The sock she'd given me for sizing purposes at the beginning of this project had been hand knitted, and an unfortunate hole resulted in a dropped stitch which caused a run all the way up the foot. She seemed pleased to hear that with the felted socks a hole would just be a hole, not the beginning of a disastrous experiment in entropy. And they were relatively easy to adjust from the basic pattern; I just added 4 extra stitches and 4 extra rows around the calf area, narrowing down to 2 extra stitches and 2 extra rows in the foot.
.
And so, I launched into my new budget and plan for life today. I spent 30 minutes on the exercise bike this morning (after spending 15 minutes
unburying
the silly thing), and later took the dog on a 45-minute hike along the dunes and shore. I'm budgeting time for chores and personal and professional development, and I'm also allocating time for things like knitting (although I didn't get to do
any
today) and naps in the winter sunshine with the cats. We'll see how it goes.