Peg is one of those church ladies that worry me. She's very sweet, a retired school teacher and farm wife who lost her husband of 50 some odd years not too long ago, lives alone, and is mentally clear but doesn't take care of her blood sugar. She has had several episodes lately where she has fallen and couldn't get up but didn't think it was enough of an emergency to use her "Lifeline" necklace. She called me the other night and happened to mention that her basement had flooded and moldy air was starting to bother her lungs, but she had been forced to wait several days for someone to declog the filter on her dehumidifier. And the batteries went dead on her hearing aid and she'd waited a couple of days until someone could replace them. So even though she has a wonderful smile and an always pleasant attitude, I was a bit relieved to hear that she was moving away to an assisted living place just down the block from her son's home on the south end of the state. It will let her keep her independence but give her the help she needs while maximizing her time with her children and their children, etc.
Peg and her husband had a life time of accumulation back on the farm, but they put a deposit on a condo in town and auctioned or gave away a bunch of stuff just before he died. Still, she is now going down from a two bedroom with full basement to a one bedroom efficiency, and is taking another crack at clearing out non-essentials. And since she's seen me knitting prayer shawls at church, she asked me to come over and adopt her mother's knitting needle collection. (Awwwww.) It was very generous of her, and I don't deny that I was willing to accept the honor, so I stopped by her house on Friday night. (I tried to buy them from her - honest. She wouldn't take money. The best I could do was bring her flowers and promise to come back with a truck when she was ready to send some furniture and other things to the church rummage sale at the end of the month.)
But when I got there - oh my sweet Lord, look what she gave me!!! A full set of vintage Boyle interchangeable needles - two sets, actually, since I have both the large size kit and the small size kit. And a slew of straight needles in different styles, which I think I want to display in a crock like the one on the Knitty.com title bar.
And they came in these funky vintage cases!
And there are also several wicker and oak baskets which will be fabulous for displaying items at the farmer's market this summer. And three great vintage suitcases which are just dying to be stacked decoratively with glass on top for an end table, as soon as I figure out how to kill the mold inside without killing the fabric. (Any ideas? Anyone?)
Meanwhile, look! I made a needle bouquet! (She gave me the vintage mixing bowl, too.)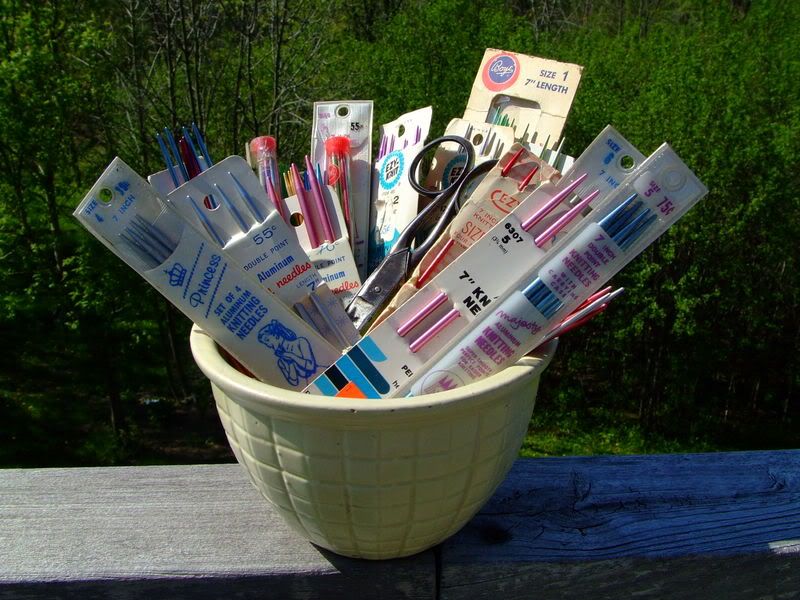 Thanks, Peg. I'll try to do you and your mother proud.