On Mother's Day morning,
Luc
got up early and went to the store with Rick and Isaac for provisions, then cooked us a breakfast of freshly brewed iced tea, scrambled eggs, french toast (with french
bread
), and hash browns. Okay, so I could have used a little more fruit, and he used up every egg in the house. But it was a beautiful thought, and he even did some dishes as part of his prep. Very nice.
After church, since both
Luc
and Tasha were working and Rick was under the
Celica
doing something related to break lines, I had the luxury of sitting in front of the
tv
and knitting for several hours. (
HBO's
Autism, the Musical
is really fabulous, by the way.) And after finishing the last of my supply of the
variegated
yarn, then
tinking
some from one side and then knitting the freed-up yarn onto the other side,
I FINISHED THE "WINGS" OF THE SHAWL!!
Now I just have to do the "wingtips" and edging. I'm so excited to have finished another major milestone on this project!!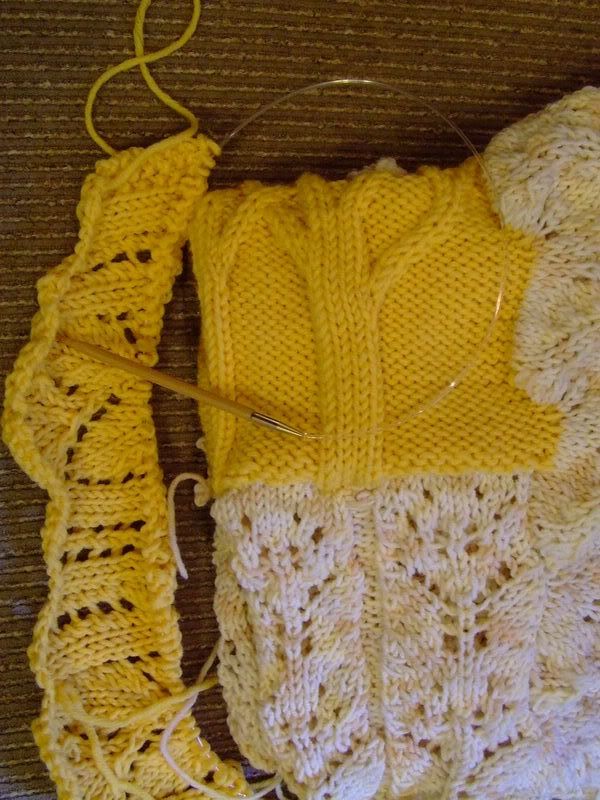 Look! That's one and a half repeats of the orchid leaf lace pattern (repeated twice over 64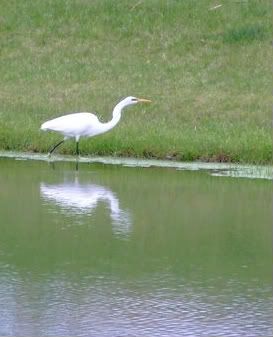 stitches, including a 1 stitch seam allowance on one edge and a seed stitch border on the other). The end is in sight!
Finally, something I just thought was kind of cool. Blog-fodder, if you will, presented in free-association about how the whole thing crossed my mind.
(1) Pretty white bird at the retaining pond - but (s)he's too shy to let me get close enough for a good shot. What kind of bird is that? Crane? Heron? Reminds me of an Ibis.

(2) Look, there's a blue heron over there too, just 40 feet or so from the white bird. Will (s)he let me get close? I've already got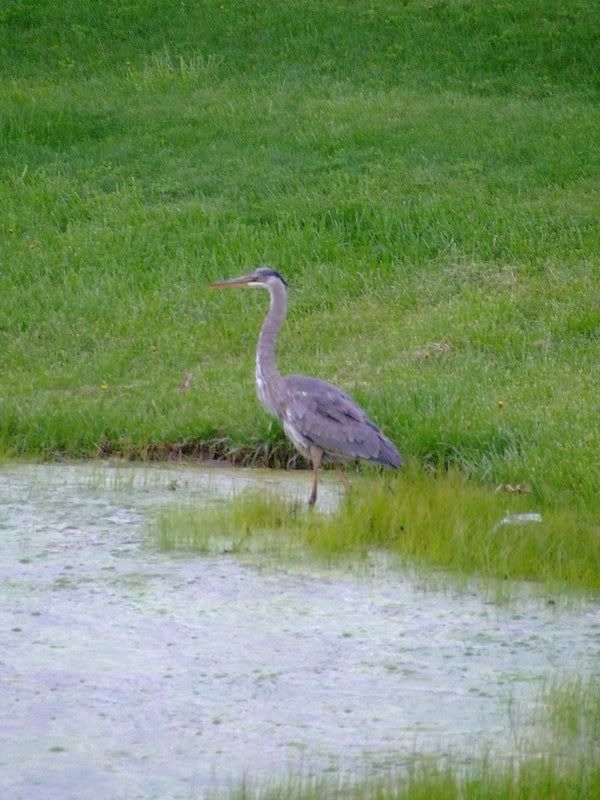 some fabulous shots of blue herons here, maybe even this one. But they're
soooo
pretty . . .
(3) Oops, Blue is taking off. I guess (s)he not feeling photogenic today.
(4) Rumble! Blue starts screaming at White, who starts screaming back and takes off, then Blue and White do a loop of the pond arguing back and forth before White gives up and takes off for the marsh by the highway. And I never got a decent shot!
.
.
.
I hope Susie sees this. As much as she likes herons, she's going to love this.
.
.
.
.