I've been eating a lot of hot cereal in the mornings lately. (Just check recent Wisconsin weather if you are wondering why.) But you can only eat so much oatmeal, even if it is heart healthy and even if you do vary the types of dried fruit you add. So I decided to try to make grits, the kind I used to get in Savannah. Quaker Oats Corn Meal has a recipe on the back for corn mush, and I figured that was "grits" for people who just didn't speak Southern. Anyway, when they tell you to "pour the corn meal into the boiling water slowly" - there's a reason for that. And grits, as I recall, were a lot thinner than the resultant corn mush (even discounting the lumps I made by dumping the whole measure of corn meal in at once). But these things can be corrected for my next try, and I remain convinced that there is very little in this world which cannot be improved by the addition of butter, honey and milk.
Next, here is the cotton nephew sweater. I think it's adorable and plenty soft. I'm making a little pilot cap to go with it, based on the Widow's Peak Cap by Melissa Henderson (
http://thedrspacemanchronicles.blogspot.com/2007/12/widows-peak-pilot-cap-knitting-pattern.html
). I was planning a second one with colorwork, also in dish cotton, but I had dozens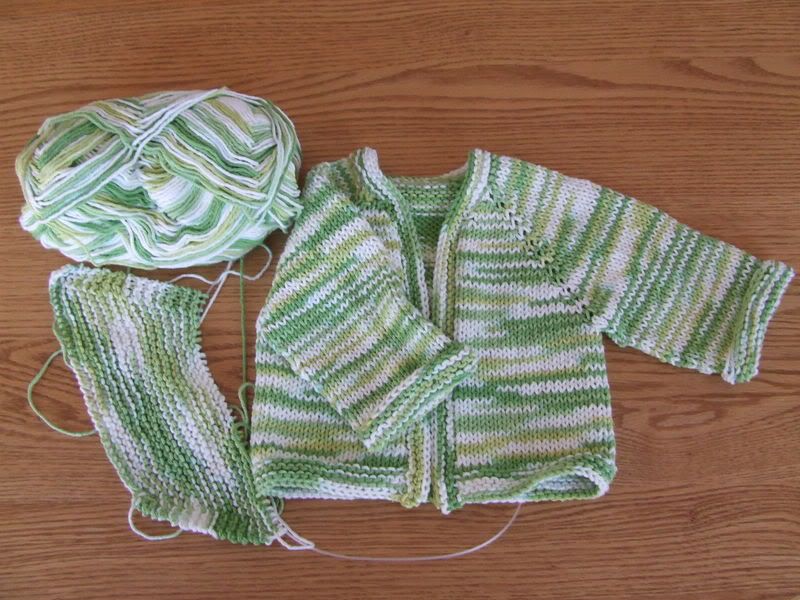 of people from the Yahoo Groups tell me that the cotton bled, and would be too rough for a baby, and would shrink. I still love the green sweater, and if dishcloth cotton is good enough for the baby kimono in
Mason-Dixon Knitting
, I think it will be fine here. But maybe I will do the colorwork sweater in wool after all.
Next, the simple meal at church is tonight. I drove to Milwaukee yesterday and hauled back a bookcase in Rick's truck, as a favor to my boss, and she's supposed to be out of the office for much of today anyway with a court apearance and some other stuff, so I'm hoping she won't mind my ducking over to church for a bit about 2:30 and putting together some pans of Mac & Cheese. (It seems we have a bunch of cooked & frozen noodles left over from the chili dinner, as well as about 4 cups of shredded cheddar and some beef. So with Betty's guidance, the menu for tonight will be diner's choice of mac & cheese, mac & cheese with broccoli, or mac & cheese with broccoli & beef. There are even some left-over saltines, which I'm being encouraged to crumble up on top of the pans of noodles & cheese before they go in the oven. We're all about using up left-overs around here.) But I still feel like there ought to be some sort of fruit involved. Maybe I'll pick up a couple of bunches of grapes or something.
Finally, I had my last small metals class last night (until the next session). It can be a little intimidating sometimes, because there are some incredibly talented people in that studio and my stuff is pretty basic. But I tell myself that (a) they've been doing it for a lot longer, and (b)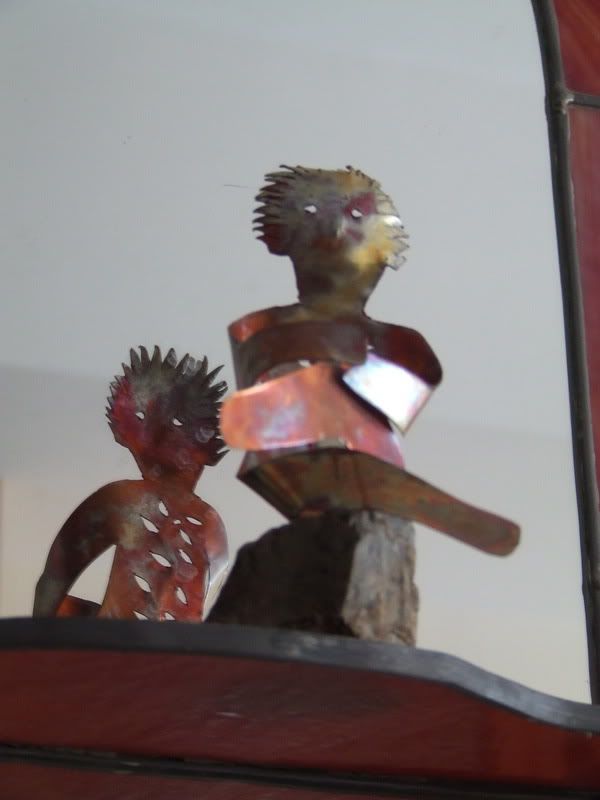 I'm still finding my own style. But here's one of my pieces, although I have to work on a better way to photograph it.
I have mentally titled it "Hope Springs Eternal," and I'm working on the theory that such a title is not pretentious. There is a vine worked into the torso with chasing, but I don't think it's dramatic enough and I plan to open it up with my jeweler's saw to just make an s-type cut-out of the vine. (My instructor was worried that this would make the piece spread too much. We'll see.) Also, the rock she's sitting on is a piece of stone from our retirement property in Arkansas. Once I'm completely happy with the figure, I'm going to epoxy her butt down on the rock and display her in my office. But I really like the colors brought out of the copper by the fire patina, and she's easily my favorite piece to date.
That's it, except Rick & Luc have located another Grand Am in Minnesota or some such place which is the same year as our dear departed Duke. They're talking about buying it and transplanting Duke's new exhaust, new struts and some other erstwhile prime parts. It sounds like a nice project to me, but certainly not something that will get Luc to class tomorrow.